Hollywood Gaming at Mahoning Valley Race Course, announced today an across the board purse increase beginning with Condition Book #2, which starts Monday, January 30. The increase of 5% will take the daily purse distribution to an unprecedented level for the facility, which began live thoroughbred racing in November, 2014.
Mark Loewe, Vice-President of Ohio Racing for Penn Gaming, and Dave Basler, Executive Director of the OHBPA, jointly announced their thanks for the continued support from the local horsemen and those from neighboring jurisdictions as well as the response bettor's across North America have shown for our racing product. "This, along with solid VLT revenues has allowed Mahoning Valley Race Course to gain momentum in the simulcast market nationwide allowing for the purse increase." Loewe added "Our overnight daily purse distribution will now average more than $105,000, excluding-Stakes races and the median purse will be more than $13,000.
Overnight purses will now start at $7,900 for $4,000 claimers, maiden special weight races will feature a purse of $17,900, and open allowance races for Ohio Bred Horses will have a purse of $32,100, compared to the previous range of $7,500-$31,000. Stakes Races are not affected by the increase and will still be worth a minimum of $75,000.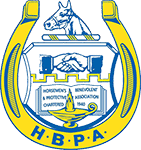 Registration is now open for the National HBPA Convention set for March 7-11, 2017, at the South Point Hotel, Casino and Spa in Las Vegas. The tentative agenda is also posted. Click here for information about the convention and registration.
The NHBPA March event will be the only convention in 2017. Elected HBPA horsemen from across the country will, through committee meetings, panels and presentations, discuss issues and challenges the industry is facing. The NHBPA is the largest Thoroughbred horsemen's association in North America. It represents approximately 30,000 owners and trainers throughout the United States and Canada. The NHBPA's goal is to provide leadership and help shape the future of the Thoroughbred racing industry.
Discussions at the convention will revolve around topics such as equine nutrition, exchange wagering, equine veterinary topics, equine research and legal updates, member benefits, matters regarding equine aftercare, and media relations.
Corey Johnsen, president and part-owner of Kentucky Downs, will give the keynote address.
The NHBPA Convention will be open to anyone involved in the racing industry as an owner, trainer, veterinarian, rider, racetrack official or operator, fan or in any other capacity.
"This convention is an excellent opportunity for individuals and our state affiliates to network, share concerns and become educated on topics affecting our national horsemen" said Eric Hamelback, CEO of the organization. "The NHBPA represents the important perspective of its owners and trainers in addressing and helping shape the future of the Thoroughbred racing industry."
Copyright © 2016 Ohio Horsemen's Benevolent and Protective Association, Inc.